Surf Lombok, A Day at We Wave
I Woke up on a tropical island in a quiet lush indo village and enjoyed my breakfast in the morning sun. At around 9am the action started at We wave surf camp! Everybody loaded up the van with not only Surfboards, but lycra and leashes too, the lifeline between you and your board. We also took lots of spf 50 sunscreen and zinc to protect our faces while surfing in the strong asian sun. Sunscreen alone is not quite enough, right under the equator. With united forces we managed to strap the five Surfboards on the roof of the van.
 Agus, our trusted guide at We Wave surf camp and the rest of the surf crew were full of energy and excitement as we all headed to the best Lombok surf of the day. We're all pumped and ready to catch some good waves in one of the most scenic landscapes in the world.Arriving at the beach and with it, the surf spot, having a moment to take it all in, I was mind blown. The surreal beautiful green hilly coastline with the next bay any valley more beautiful than the other.
My mood was amazing, I felt really excited and I couldn't wait to jump into the water, and see what all the surf rave was about! But patience is key, we needed to make sure we were 100% ready before heading out to the surf break.  Agus reminded us of some basic surfer theory and useful information about the surf spot for our morning in the waves. The surf conditions, preparing us for when and how to paddle out, watching the currents (if there are any), where the channel is, how to navigate it and where our lineup is going to be. After this we did a  ten minute warm up routine, which is important before any physical activity and we were ready to go!  
The team at We Wave Surf Camp Lombok has seven years of experience when it comes to selecting good spots to surf year round, so you don't waste any precious holiday time scouting the coast line yourself. They will always make sure that you surf Lombok at the right place and right time.
Being a beginner,  as I am, I attended the beginner course for my first surf with We wave surf camp Lombok. Without my friend, because he's a much more experienced surfer and has already surfed at many different surf breaks around Lombok with the advanced courses of the We wave surf camp Lombok. The beginner surf course team however went to Selong Belanak for the morning session, a beautiful beach. The We Wave Surf Camp Lombok has a blog about our favorite beaches already, here is a link. 

At Selong Belanak I can see a mellow wave breaking close to the beach and over sand. This made me feel at ease, as I could see the waves were not too big and I felt confident I'd be able to do it. Many of the more advanced surf spots in Lombok have surf breaks over reef. This makes Selong Belanak safe and perfect for beginners, who are just starting to get a feel for surfing. Before going in the water, I practiced popping up on my board, so I had a good idea of foot position and balancing my weight on the board. 
Surf Lesson with the We Wave Surf Camp Lombok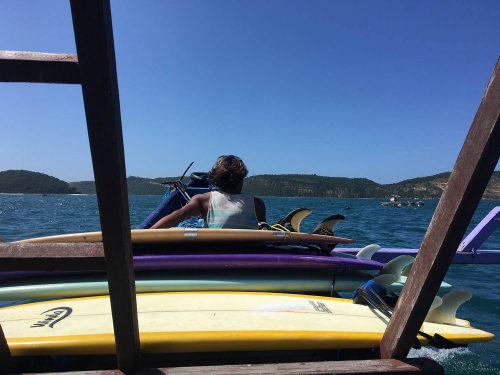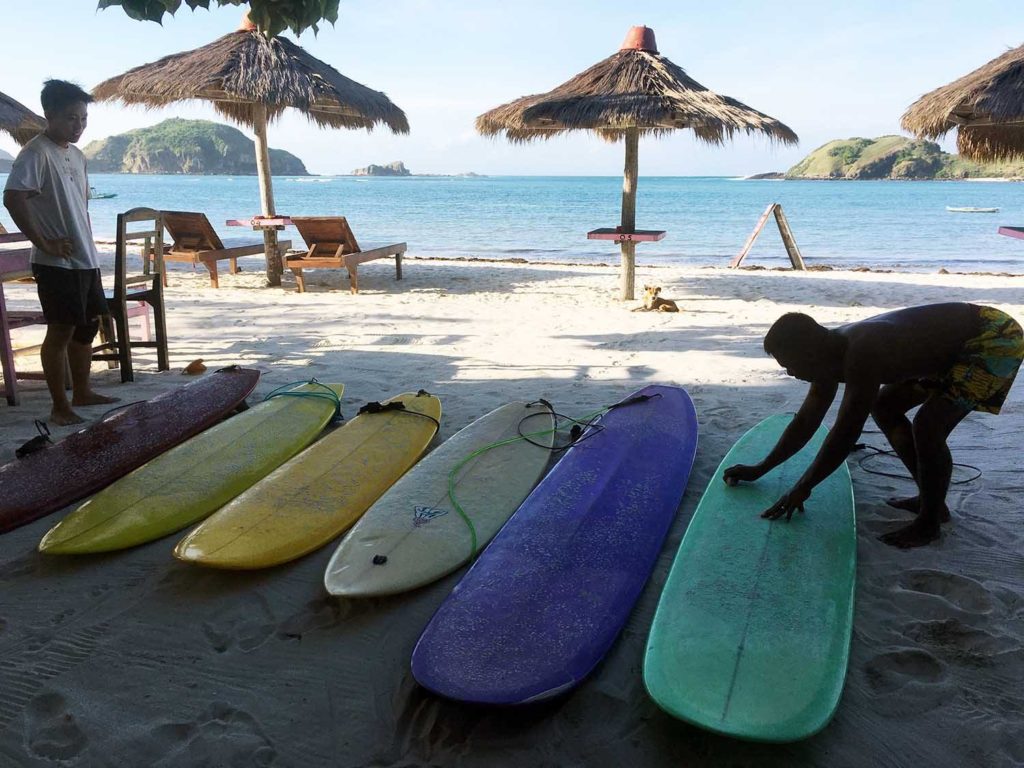 Finally we were in the water, and the Surf Guide Agus helped me to catch my first white water wave (that's a wave that's already broken, which is easier to catch and to stand up on for first timers). After a couple successful rides to the beach with white water waves Agus took me further out to the line up (the area at a surf spot where the surfers wait for waves) to catch some unbroken real green waves! I fell so often at the beginning when I attempted the take off, it felt like the wave got too steep for me too quickly and I got scared in the last moment. Agus reassured me that I was doing great, but I had to be committed and believe that I could do it, he believed it for sure. 
So with new gained confidence, and experience from all the unsuccessful attempts, Agus called me into a Wave "That's a good one! paddle into the inside, paddle hard, Stand uuuuuup!!!!!!" and so I did! I managed to drop down the Wave till the bottom and go along with the white water right up to the beach. Wow, I was speechless! The feeling of riding that wave made my body feel so energized & hungry to pursue it. I couldn't help myself, the huge smile on my face just wanted to stay. Agus came out of the water just after me, saw me and just smiled knowing I'd been bitten by the surfbug. He said to me:"the feeling you have right now, we call it being stoked, best feeling in the World."
We wave surfcamp Lombok After Surf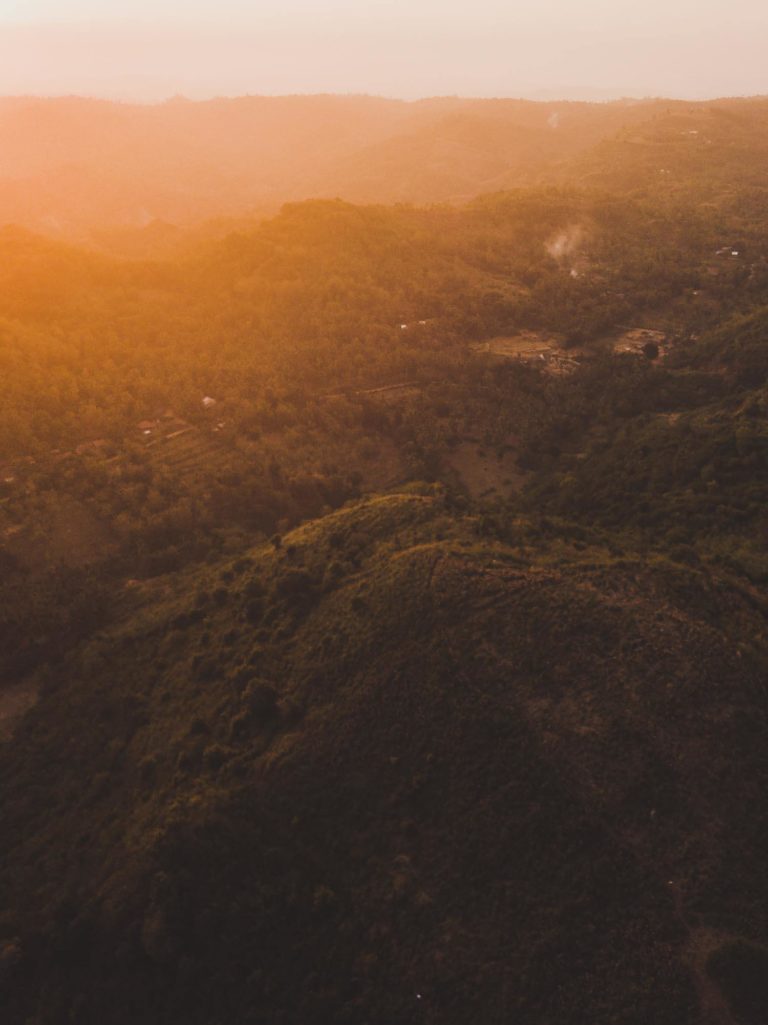 First thing we did after the good surf was chill a bit at the beach and reflect the surf session over a fresh coconut. The surfing was very exhausting so we all needed some rest. With the much needed quick rest, some energy is back to load up the van, at least for me, Agus is still loaded with energy. On the drive back along the coastline, the landscapes passing by the van window, had all my attention. This tropical paradise is just beyond beautiful. The van gets slower and next thing I was a water buffalo head thirty centimeters away from the car window I was staring out of the whole time. There was a whole herd of them! Twenty at least! Together they were walking along the road, the local herder giving them little taps on their bottoms to make sure one lane of the road was free to pass the buffalos. Oh I love this peaceful island life way too much already…
A little more rest time at the Camp, Wow! surfing really is a solid full body workout, but it feels great! In the afternoon I felt ready for a video surf analysis to see how I had done on my first day in the waves, from a different perspective. I felt like seeing myself surfing, as well as having the feedback and analysis by the experienced guides helped a lot. I feel great, although only my first day – it was a really good one & I'm so happy to have tried surfing out. A quick shower later and we are off to some big hills overlooking the Indian Ocean for a tropical sunset to have a drink or two over. After sunset it's dinner time & we were all ready to head back down to the town for something to eat. Sometimes indonesien, sometimes burgers, sometimes pizza or a BBQ at the beach, whatever we felt like really.
Surf Camp Lombok Conclusions
If someone were to ask me if I would ever go back to a Surf Camp in Lombok again? Hell yeah! I will be back in Kuta, Lombok in no time for sure! Although I hadn't surfed before my holiday in Lombok, I can see now why Kuta Lombok is so prefect for learning the sport. I've always had great appreciation for surfers. In the past, when I've been to beaches famous for the surfing, there are always so many of them in one place! This is great for watching of course, it's great action. But when its you, in the water, you'll realise the sport is much more enjoyed when its not over crowded with other surfers in the line up. Makes sense right? The more surfers, the less time for you to spend actually riding the waves. For beginners especially, practice is really important – you don't get much practice lying on the surfboard in the middle of the ocean, waiting for the line of surfers ahead of you to catch their waves first. This is just another reason why the hidden gem of Kuta, Lombok was a great place for me to discover my love for surfing. 
I think on my next trip to Kuta Lombok for surfing I will do two weeks rather than only just a week. I felt like one week was too short, as soon as I really got into Surfing and started making progress, it was time to leave. I also spent all my time in the water and there's lots more I'd love to see and do on my next trip! Overall it was a great experience with We Wave surf camp  and I can't wait to be back for more! 
Have a look at some pictures I took, as highlights of my time with We Wave Surf camp.