In our first blog the We Wave Surf Camp wants to introduce you to the best beaches in the stunning area of Kuta Lombok and the area around them. There is a reason for the We Wave Surf Camp to settle here. All our beaches are just beautiful, which makes it really hard to select the best beaches in Lombok, not even considering the great Surf all along the coastline of South Lombok, which is so rich in natural beauty, countless green hills with breathtaking views and beautiful bays with uncrowded beaches in between. I am still shocked at how empty they still are, undiscovered natural beauty. The area of Kuta Lombok just has it all! It has the quiet and traditional local sasak life, to explore the real Indonesian culture and its beautiful people along the way. It has amazing natural variety from waterfalls and a volcano, to rich sasak culture, and of course beautiful beaches and great waves. So all the things an explorers heart can ask for and on the other side you have all the western heart can ask for as well, nice accommodations, culinary restaurants with food from all over the world, good local warungs with the delights of the indonesian kitchen, and really fun bars for meeting like minded people after a day in the sun.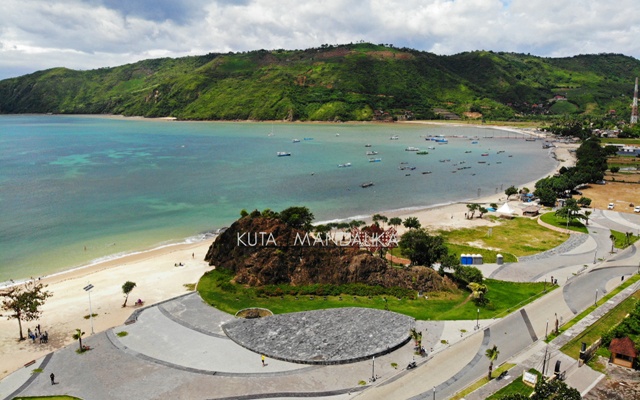 Kuta is the touristic center of south Lombok and Lombok's most popular destination, however, compared to the super touristy Kuta in Bali it is still small, quiet and authentically Indonesian. The surf town Kuta Lombok has a steadily growing offer of restaurants, cafes and a variety of different styles of accommodation. A traditional local market is in town every Wednesday and Sunday.
On all nights of the week local bars offer a fun little nightlife scene with varieties from live music to Hip Hop and Techno DJs in places like Bus Bar, Rusta or Surfers Bar. If just a little bar in a tree with laid back beats to enjoy your Bintang is more your style? Kuta has you covered, one of them is the Juice and Booze Bar (@juiceandboozebar), its my favorite.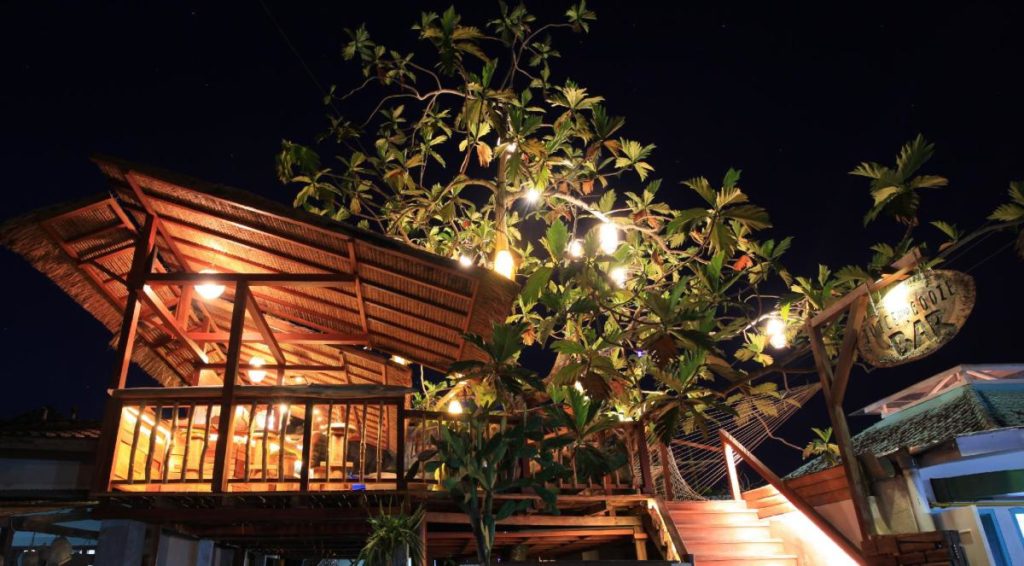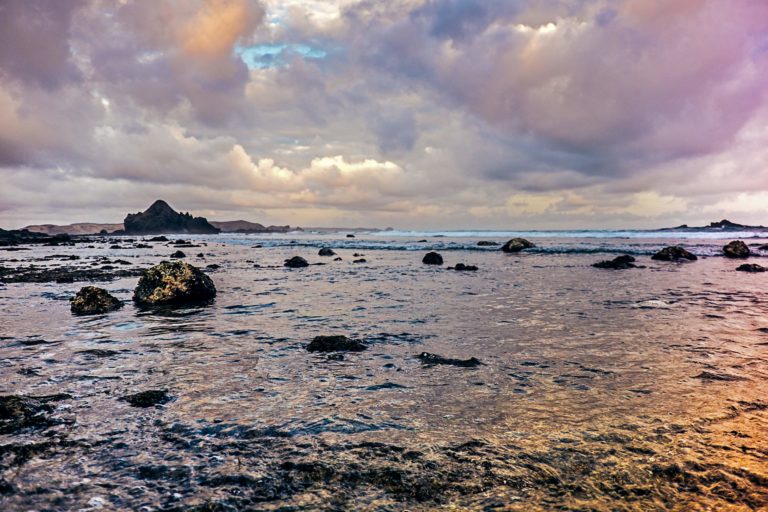 Seger Beach is famous for a few things, first is an amazing hill next to the beach, where every afternoon a bunch of travelers and locals alike meet to enjoy the sunset over a bintang or two. Second is the Bau Nyale Festival which happens every year around February/March and attracts thousands of people. Definitely a highlight when you are in Kuta in that time. What Seger Beach is not famous for is swimming. The shallow reef, the strong currents and the waves makes it dangerous to swim properly at Seger Beach, however it is fine for a little dip close to the beach to cool off. 
Within only a 10 minutes motorbike ride from our location, there are plenty more beautiful beaches to discover, one of them, is Tanjung Aan. This beach is one of my favorites, it's just beyond beautiful, the fine white sand and turquoise water is almost unreal. Depending on the swell and tides, it offers good wave's for all surfing level. The bay is huge but has almost no currents which makes it perfect for swimming, however on big swell days and big tide differences there can be a current. Fishing boats are scattered along the coast, there are plenty of Warungs (local restaurants) at the Beach to enjoy beverages like a coconut or a fresh juice and delicious indonesien dishes. The restaurants offer free sunbeds too, if you purchase any of their reasonably priced drinks or food options.Tanjung Aan is for sure a must visit while in Kuta Lombok. On the west facing end of the Beach is a large green hill, a headland separating the bay of Tanjung Aan with the next bay. This hill is for sure worth exploring as well. The Views from up there are breathtaking, there are little secret beaches on the opposite site of the hill that are very private and beautiful as well. It is an adventures experience with a bit of that Robinson Crusoe kinda Vibe, so don't forget to bring your Wilson.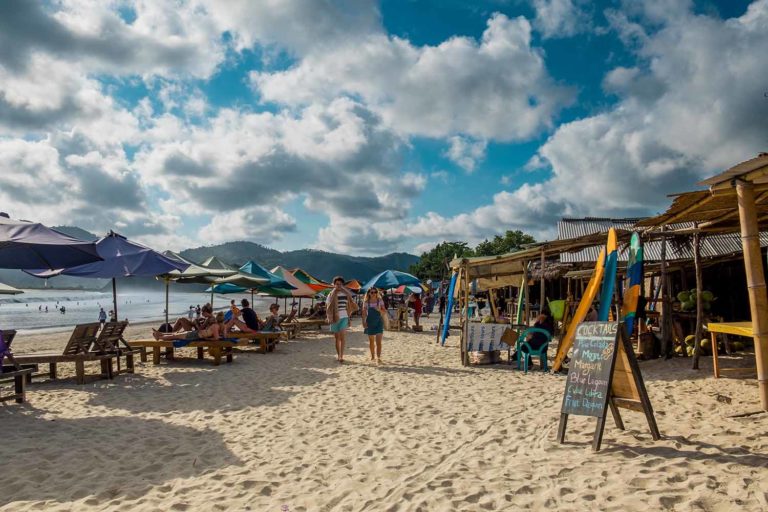 A half hour drive from Kuta lays the amazing bay of Selong Belanak. There is no doubt that Selong Belanak is one of the most beautiful beaches in Indonesia. The bay is perfect for the beginners of our We Wave Surf Camp to catch the first wave of their lives. It is also a must visit for swimming and sunbathing as well. The east part of the beach has a line of warungs (local restaurants) for beverages and local food easily available to you, right on the Beach. Past the warungs is a long stretch of perfect quite beach. Since Selong Belanak is one of the more popular beaches in Lombok, it can feel a bit busy around the warung area, but if you keep walking further to the west, you can have the stunning white sand all to yourself. Another main attraction on this Beach is it being a perfect spot to enjoy the sunset while approximately fifty massive water buffalos enjoy their version of a chilled sundowning walk along the beach.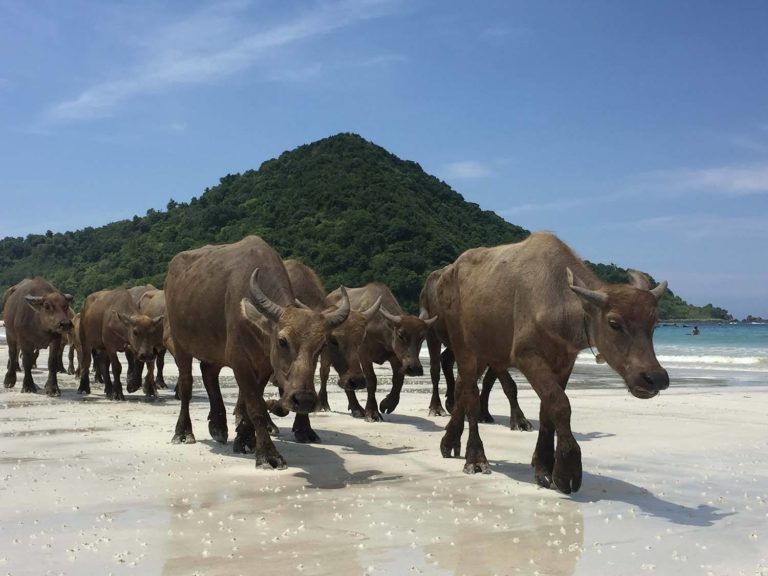 If you like Selong Belanak so much you want to stay a couple nights, We Wave Surf Camp can recommend the SUKU LIFESTYLE HOTEL  (@sukulombok) for you. The accommodation offers amazing food and pool side rooms only a 100meter walk to the Selong Belanak beach. In our eyes Suku is the best price for value in the area.
Suku Lifestyle Hotel on booking.com
Driving to Mawi is a bit of a challenge, know that the last road to reach the Beach is a dirt track and you need to know how to handle a scooter. If you're able to drive slow and controlled, the trip should be fine. In Mawi you can watch experienced surfer's not far from the beach, a great show to watch. But therefore its not ideal for swimming, however going into the water for a little cool off next to the Beach on the South-west part is fine. There are two more hidden beaches just next to it, one you can reach by walking over the hill on the right side of the beach (another good spot to watch the surfers from). The other one you can get to be taking a left turn, instead of a right going to Mawi, on the dirt track. Not many people go to this one, so chances are that you have the beach all to yourself.
Mawun Beach is only a 10 minute ride away from Kuta and not like Mawi, the good roads provide a very easy access. The wide bay of Mawun is protected by green hills forming a headland on both sides. In between, a stunning long beach and deep blue water, perfect for swimming. While visiting this beach, we recommend staying on the east or west part of the beach, these parts are protected by the headlands while the middle part is exposed to the Indian ocean and therefore the shorebreak can be heavy at times. So the east and west is our advice to choose for activities, it also fits for kids to play better. Also since you are at the sides already, try to hike up one of the Hills of the headland, from up there you get a beautiful view over the bay, the south Lombok coastline and the Indian ocean.
Like most of the beaches in Lombok, the entrance fee for Mawun is 10k indonesian rupiah, a small price to pay for a pristine beach.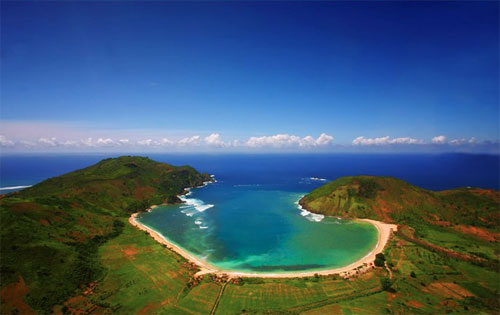 Senggigi Beach is located at the west coast of Lombok, it is the island's closest thing to a touristic town with resorts, hotels, restaurants and bars lined up on the long beach of Senggigi, so expect a very developed beach area. At Senggigi Beach the parking for a motorbike is free. If you like to have a resort holiday and want to have all the infrastructure you need for your holiday all in one place then Senggigi is a good choice. However, Senggigi Beach is not our favorite beach, We Wave Surf Camp recommends to rent a motorbike and explore all the gorgeous nearby beaches up and down the coast. Senggigi Beach is mentioned in our best beaches in Lombok list, because it is a famous beach in Lombok, but personally we don't have this beach high up on our best beaches in Lombok list.
How to get to Pink Beach is a bit rough, from Kuta it is a approximate two hour drive from the Kuta Lombok area and the last forty five minutes of driving are more like a dirt bike adventure, however, it is possible on a usual scooter but you should be able to handle the bike and drive carefully. If you choose not to ride there by yourself there are plenty of transport services around Kuta Lombok to find you a Taxi driver. 
The main attraction of Pink Beach is, yeah you guessed it, a pink sand-colored beach. When viewed more closely, and on the wrong time of the day, it is actually a white sand beach. But when the sun hits the beach right, the sand mixed with crushed pieces of red coral appears in a obvious pink color. 
Besides a pink colored beach, this place is surrounded by cliffs and a very impressive natural scenery, highlighted by a beautiful viewpoint overlooking the bay.
Here on the South Coast of Lombok there are just too many absolutely beautiful secret beaches to mention them all. But it's no secret that the beautiful coastline is definitely the main reason for the tourism in Kuta Lombok. We Wave Surf Camp also recommends Kuta, Lombok as a good place to be based, for the best beaches in Lombok as well as if you are interested in doing tours or day trips to other parts of the island. The town of Kuta is small, unique and has everything you need for a holiday getaway or a longer break from the buzz of the big city life. As soon as you get no less than 5 minutes away from the main beat of Kuta, Lombok area, the whole island opens up for a raw and real local travel experience. There are plenty of activities to satisfy your vacation desires and something for everyone. A trip to this little piece of paradise is definitely a unique, cultural adventure. While visiting Kuta, Lombok you are also sure to find that the locals here are very friendly, happy and eager to help you or share information, should you need it. It is a pleasure for the We Wave Surf Camp Lombok family to show you around our personal hidden best beaches in Lombok. We have fallen in love with this place and all it has to offer, we can't wait to share it with you. But be aware, you will leave Kuta Lombok (if you do) with a huge desire for more…